The Sexual & Reproductive Health Integration Project
Contextual Background
Over 95% of HIV cases in the Pacific are reported from just one country – Papua New Guinea (PNG). With a population of 7.6 million people, it has the most serious HIV burden of the 22 Pacific island countries and areas in the World Health Organization (WHO) Western Pacific Region. Key sexually transmitted infections (STIs – including trichomoniasis, chlamydia, gonorrhea and human papillomavirus infection) are also some of the highest rates in the Pacific region, along with co-morbid presentations (notably, tuberculosis), continuing to present significant health, social and economic challenges in the country.
HIV affects key populations disproportionately. Data collected from facilities across the country that provide HIV testing show that 4.3% of men who have sex with men (MSM) and 5.9 % of female sex workers are HIV-positive. Studies in Port Moresby, the capital, found an alarmingly high HIV prevalence of 16% among people who had sold or exchanged sex.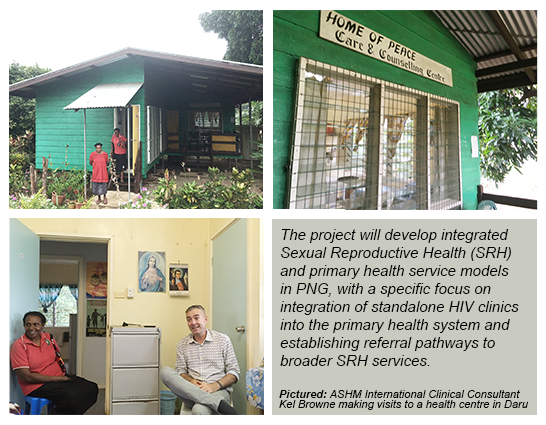 The Sexual & Reproductive Health Integration Project (SRHIP) builds upon ASHM's strong and longstanding partnerships of over 15 years with collaborators PNG Catholic Church Health Services (CCHS) and Igat Hope working in PNG as part of the ASHM Clinical and Laboratory Mentoring Program – the Collaboration for Health in Papua New Guinea (CHPNG).
SRHIP aligns with the PNG National HIV Strategy 2018-2022 and PNG National Health Plan 2011-2020. These are frameworks which are in line with the Sustainable Development Goals (SDGs) – adopted by the international community in September 2015 to ensure that no one is left behind in efforts to end poverty, protect the planet and ensure health and prosperity of all. The SDGs set 2030 as the target year to end the AIDS epidemic.
Project Focus
The Sexual & Reproductive Health Integration Project (SRHIP) is a partnership led by PNG Catholic Church Health Services (CCHS) – and a consortia consisting of ASHM, Anglicare PNG, Burnet Institute, and Igat Hope. The consortium is uniquely positioned through its combined PNG and HIV experience, complementary skills, services and resources, to make a major impact on the delivery of HIV and sexual and reproductive health (SRH) services and outcomes.
CCHS and Anglicare PNG have been instrumental in providing over 40% of the testing, treatment and management of HIV in PNG. Changes to the funding environment, along with advances in treatment and technology, demand innovative approaches to continued delivery of essential SRH services. SRHIP will ensure continued and responsive provision of HIV and STI services to CCHS and Anglicare PNG without duplicating national health mechanisms, whilst strategically addressing integration, sustainability and scale-up of quality SRH services within primary health care.
ASHM plays a key technical advisory role in SRHIP, leading on the clinical service development, and the monitoring and evaluation system improvement activities. These are critical to the successful delivery of quality integrated health services.
Location Scope
22 CCHS standalone HIV clinics and 2 Anglicare standalone HIV clinics across 18 provinces in PNG:
East Sepik, Morobe, Eastern Highlands, Western Highlands, Central, West New Britain, NCD, Gulf, Western and the Autonomous Region of Bougainville, Sandaun, Madang, Jiwaka, Hela, East New Britain, New Ireland, Milne Bay and Central, Port Moresby and Mount Hagen.
Project Timeline
June 2017 – April 2020
Results
SRHIP will expand reach and coverage of STI, HIV, SRH and primary health services within CCHS and Anglicare PNG.
The project will develop integrated SRH and primary health service models, building on strengths of current facility operations and seeking to increase quality, scale-up and efficiency for long-term sustainability.
There will be specific focus on integration of standalone HIV clinics into the primary health system and establishing referral pathways to broader SRH services.
Outcomes
SRHIP will deliver sustainable outcomes by integrating the existing 22 CCHS HIV standalone clinics and 2 Anglicare PNG Clinics into broader SRH services within the primary health care system.
Effective, sustainable systems enhance integration and scale up of HIV, STI and SRH services.
Improved quality and reach of HIV, STI and broader SRH services by building the capcity of a cadre of highly experienced HIV practitioners.
SRHIP will engage with existing church networks, including youth groups, to develop and disseminate SRH behaviour change communication (BCC) messages. A standardised, innovative toolkit will be developed for BCC delivery across the broader CCHS and Anglicare networks, leveraging off existing national peer education materials.
Contact Details
For any general enquiries relating to this project, please contact:
Joanna Akritidu | International Project Manager​  – International Project Manager